We've looked at ways to mitigate a travel emergency before. All the things we mentioned then related to issues like your luggage going missing, losing your cash card, or your phone battery running out. It is, however, important to remember that medical emergencies can also happen while travelling, especially if you already have pre-existing conditions or like to partake in extreme sports. Just imagine the extra stress of not being close to home when it happened? Therefore, why not consider the following things that you can do prior to and during your travels to mitigate them?
Enroll in MedjetAssist
MedjetAssist is an air medical transport membership program for travellers who are involved in an incident or have a medical emergency 150 miles or more from home. All-expenses paid transport, seamless transfers, language translation assistance, and medical consultation are all part of the program making it the perfect choice to ensure you are well protected should the worst happen.
Ensure You Have the Right Insurance
Having travel insurance is a must, but having the right travel insurance is just as important. If you have any pre-existing medical conditions, you must ensure that the insurance policy you choose covers you when travelling as basic policies are unlikely to. Also, if you intend on taking part in extreme sports, such as hitting the slopes, check to see if your policy covers you in case you have a mishap.
Photocopy Your Prescription(s)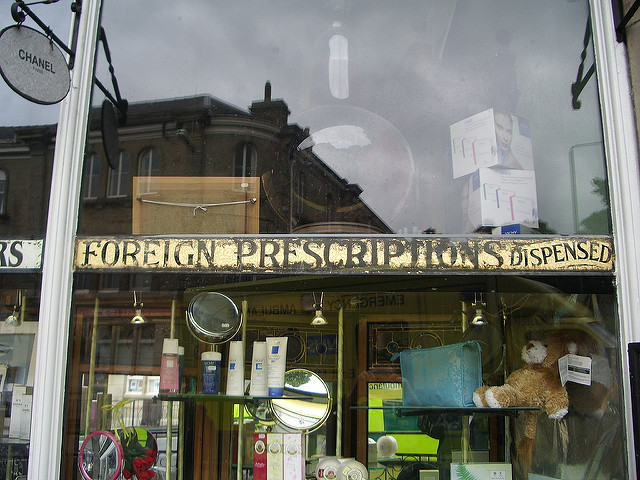 Image via Flickr by Smabs Sputzer
If you are on any medication it is recommended that you photocopy your prescriptions, or at least the labels on the bottles, and pack them in your bag when travelling. This will help you explain to the doctor or pharmacist what you take should you lose or run out of your medication. If there is a language barrier then you could simply show them your photocopies for repeat prescriptions.
Wear Medical ID Jewellery
If you have a medical condition then wearing an item of ID jewellery, such as a bracelet or necklace, is recommended. They can be engraved bearing a message that you have a medical condition, what it is, and that you might require immediate attention. The bracelet or necklace will inform the first responder of your condition if you are not in a position to do so. This is especially ideal if you are a solo traveller.
Get a European Health Insurance Card
The European Health Insurance Card is free for citizens of the UK over the age of 16. It gives you the right to access state-provided healthcare during your temporary stay/holiday in any EU country along with Iceland, Liechtenstein, Norway, and Switzerland, though it is not an alternative to travel insurance. The EHIC also covers the treatment of pre-existing medical conditions and routine maternity care.
It is important not to leave things to chance, especially when it comes to your health. Therefore, we hope our advice has helped you and you can now plan and prepare accordingly in order to mitigate a medical emergency while travelling.
Feature image via Flickr by ccPixs.com
We were happy to write this post in collaboration with MedjetAssist.